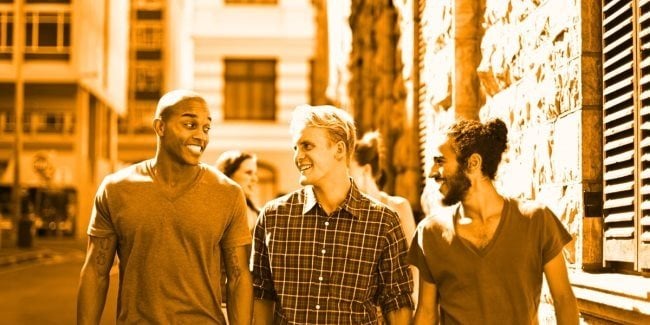 When it comes to love, astrology has the answer to all questions. To cut back on the bad experiences and find the right one, the real one, sometimes you need to look a little beyond your astrological sign.... What kind of men are more likely to fall in love with you if you're an Aquarius, Virgo, or Pisces? Here's the answer!
The Aries Woman
Your professional spirit (and your numerous successes) crushes any man who lacks self-confidence. The man who falls in love with you will be someone as motivated and competitive as you. That man will see you as the most spectacular of all women and will want to be your man.
The Taurus Woman
You attract men who, like you, enjoy the little things in life: a good movie, Nutella, and, ideally, a dog (or two or three) sleeping by the hearth. The one who falls for you will not declare his love by peppering you with text messages or inviting you to dinner at a five-star restaurant, but rather will surprise you with a simple pizza and a glass of wine.
The Gemini Woman
Spending all day watching Netflix three weekends in a row is as exciting for you as scratching your feet with pumice. Good news! The men you attract are as spontaneous and hyperactive as you are. They spend their lives planning weekend trips and looking for restaurants to try during the week. The notion of boredom in a relationship is totally foreign to you (though your bank account would like you to get bored a little more often).
The Cancer Woman
You're not one to give yourself up to a stranger. You need to see a man two, three, four times before you give in. Men who fall in love with you know how to take the time to build something. Your ideal strategy? Meeting at home of a mutual friend, which transforms into a friendship that, over time, evolves into love. Pure romance.
The Leo Woman
At first glance, you seem arrogant, even narcissistic, which can discourage less self-confident men. Your Prince Charming will be able to see your love for others through your remarkable self-esteem. He will know that you feel good in your own skin. Since you don't need more compliments than you already receive, this man will adorn your life with tangible things.
The Virgo Woman
You are a very attentive person, able to listen to your best friend patiently as she tells you the details of her breakup for the fourth time in a row. You need to feel useful. As a result, you attract strange and fragile people who it's difficult for you to get rid of. Among the many men who fall in love with you, the man in your life is someone who feels good in his own skin, who doesn't need your help. On the contrary, he knows how to take the initiative and invite you to your favorite restaurant when you've had a difficult day.
The Libra Woman
Your peacemaking nature can make you seem passive, unable to make decisions. That's not the case. You tend to be trampled on by men who are too "dominant." The real men in your life are wise, just like you. Men who question everything, especially rumors, men who do not give up (even if they find it very tempting). The only problem in your ideal relationship is when you have to choose which restaurant to go to tonight.
The Scorpio Woman
You cannot pretend to be a super relaxed girl so as not to scare your partner. With you, the norm is to get what you want, the way you want it, and it doesn't matter how hard it is to begin with. The result? Indecisive men have no chance. The man who falls in love with you must be as passionate as you are. He will quickly understand that this is a long-term relationship and see your intense side as a virtue and not as something to be afraid of.
The Sagittarius Woman
You have the gift of soothing people, even the most introverted. You are the one who organizes trips with friends, the one who talks most with strangers at night, the one who eases the most difficult situations. As a result, you attract almost everyone who knows you, but the ones who really fall in love with you are the men who are a little more reserved than you. They are the most inclined to forgive you your sweet crazy ideas.
The Capricorn Woman
You are a hyperactive person; in sports, at work, in life, you give your all. Which means that you quickly crush men who are too soft. The man who will definitively fall in love with you will have to love you as you are: ambitious and tireless. He should also be willing to start a family and have a career. Together you make a spectacular couple, united and full of love.
The Aquarius Woman
Politics, work, love; you like to criticize everything that is wrong and feel free to communicate it to the relevant person (or your Facebook friends). A lot of people blame you for being too negative. But those who really love you see the opposite: if you are so committed, it is to improve life. The type of man you seduce shares this vision, and as a couple, people see you as a pair of modern heroes, Brad Pitt and Angelina Jolie style.
The Pisces Woman
You are very sweet, almost too fragile to survive in the modern world. The problem is that you're looking for both passion and stability in love. As a result, you tend to attract toxic men. But over time you manage to get rid of these toxic men and find the right man for you: someone as sweet and passionate as you, sharing a love of the good old-fashioned kind.
Write your comment here ...