The Capricorn Man in Bed: What Is He Like Sexually?
Manuel G | November 01 2022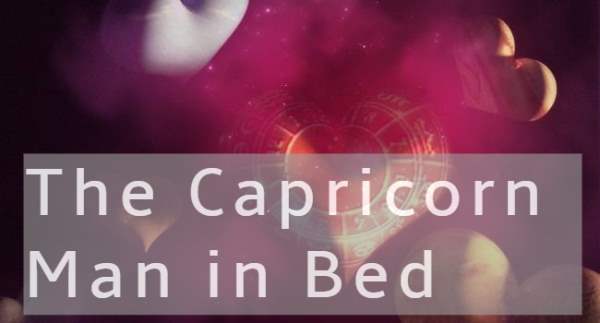 Today we discover what sex with the Capricorn man is like, what he likes, what he hates, and his personality in bed according to sexual astrology.
Through sex, the Capricorn man reveals everything he has to offer his partner. He sees making love as something that makes a man understand love better. Not only does he have sex, he plans everything with precision, just as he does with other things in life. He likes a partner who knows how to make him feel good, and he would never make the first move to pursue someone he likes. He's not the most affectionate lover, but he doesn't mind if the woman he loves is. If you're starting a relationship with a Capricorn man, you should know what turns him on. You also have to be available for sex whenever he wants. Surprising him would be advantageous for you. He's very energetic in bed and is proud of his performances.
Don't tempt a Capricorn man and then leave him hanging. He won't know how to accept rejection and he'll get angry.
For him, love is as vital as eating or breathing. He wants the perfect woman for him, and he won't stop looking until he finds her. This man sees beyond a woman's character and abilities. He sees sexuality in her. He himself has a heightened sexuality. He is capricious and usually likes women who are younger.
Ready for a Wild Ride?
He is the kind of man who is able to keep pleasuring a woman for a long time. He'll pull out right before you orgasm. He will have oral sex and will bridle his own pleasure until you are completely satisfied.
He sees sex as something that releases tension and does it as if it were a ritual. The Capricorn man will not be upset with you if you need to leave the room for a few moments when you are having sex. He will continue alone until you come back. He needs to make love in a comfortable bed. If you can create a romantic atmosphere for both of you, even better.
Don't tell him what to do in bed. He's a pretty relaxed guy. His pride is in satisfying you first, and he won't give up until he does. If you let him know how pleasant it was to spend a night with him, he'll be motivated and will do better yet the next time. Your Capricorn lover will love to dance with you while you take off your clothes. If you're much shorter than him, hold on to his waist with your legs.
He also likes it when his partner plays with her breasts and caresses his body with them. As we have said before, he has a higher sexual energy and endurance than other signs.
The Capricorn man is as shy and puritan as a teenager, so he doesn't have enough bravado to practice many of his sexual fantasies and has a tendency to masturbate. That's why, when he looks for something in a woman, he's not just looking for sex but also for a close companion, someone to share things with - gestures and love. Someone who gives him sufficient confidence to lead a rich sex life with her and gives free rein to his imagination. He may practice perverted sexual acts with his partners. He also has a tendency to be violent when something gets in his way.
He is a passionate man - Capricorn can't stand rigid, straitlaced women. This does not mean that he doesn't understand if a woman does not want to sleep with him on the first date, but he needs solid reasons to understand why. If you're getting ready to date a Capricorn man, make sure not to lie to him. He would see through it immediately, and everything you had with him would be destroyed.
If you already have a Capricorn man in bed, be sure not to lose your desire for him, as he likes to see that you really feel that attraction to him; if not, he'll leave you.
If he sees that your love for him is true and faithful, he will have love and faithfulness for you all of his life, as he is one of the most loyal zodiac signs. He does not know how to be with someone who doesn't love him, so he does not understand self-interested love, love that isn't based on pure feelings. Who better to love than him?
The Capricorn Man in Other Aspects of Life
Capricorn men don't party much - they prefer evenings at home or with friends. They are fun, pleasant guys, so, life by his side will be cheerful and full of surprises.
He likes to have sex regularly, and the older he gets, the more fun it is to make love to him. He will never be boring in bed - he'll always have new things to show you and will always be concerned that his partner enjoys herself with him.
No matter how old he is, he will continue to try to seduce the woman sexually. One thing he gains over the years is being able to improve his technique.
He needs a woman who is not only social, but also a good homemaker and a faithful companion. The Capricorn man is a good negotiator who will earn money and spend it wisely. He usually doesn't commit when he doesn't agree with someone 100%, and he always wants things to be done his way.
Although he seems cold and distant on the outside, inside he's a volcano ready to erupt. When he concentrates on doing something, he focuses on getting it done in an admirable way. This is how he succeeds in life - with hard work and determination. The Capricorn man is a very good manager who is ready for new beginnings when something doesn't turn out right. He repays the people who help him, and people consider him a good friend.
Although he always seeks true love, he will also take note of the financial position of his partner - after all, love eventually goes to the scrapyard and everyone should be certain of a stable income. He pays a lot of attention to the physical, greatly admiring the aesthetics and physique of his partner.
If his relationship has an emotional side, he will always give more than he receives. He's also a man who doesn't pretend in order to charm - what you see is what is really there.
Write your comment here ...