A union with many possibilities of becoming one of those couples that last a lifetime.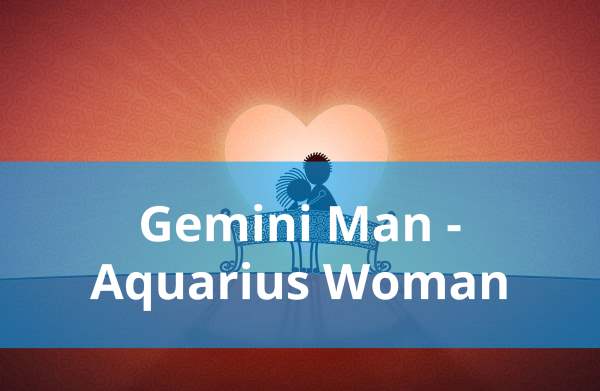 Both Air signs will be attracted to each other from the first exchange of glances. They have points in common that immediately bring them closer: their taste for adventure, their originality, and their freedom-loving nature. The Gemini man loves the Aquarius woman's way of life and admires her independence and straightforwardness. As for the Aquarius woman, she quickly falls under the spell of this unconventional man who knows how to thrill her and especially make her laugh. His Peter Pan side, an eternal teenager, makes him irresistible in her eyes.
As a couple, their relationship will progress well thanks to their sense of humor and intelligence, weapons that will allow them to weather moments of tension that may arise during their life together.
Very close in the spiritual realm, the Gemini man and the Aquarius woman will experience very intimate moments because their connectedness is unlimited, including on a carnal level.
Their life as a couple will be enriched by a tremendously satisfying social life. They both love meeting new people and having new experiences, and their friendships are very important to them. This allows them to find a certain balance and helps them not to lock themselves in a relationship that is too airtight. Neither of them would like that, and it would certainly bring problems that could even end the relationship.
However, some tension and conflicts could arise because Gemini is rather unstable by nature in terms of romance. His inner need for renewal and freedom sometimes tends to push him to seek out relationships outside of marriage, although things almost never go past flirting, simply to know that others still like him. This could cause a serious conflict. Although the Aquarius woman is not a very possessive person, in the long run she could get tired of her partner's whims. She knows perfectly how to differentiate between the independence that initially united them and a relationship where she is at all times at the will of what her partner wants. She is not willing to be in this situation.
However, despite these problems, it is very likely that this couple will endure as long as they both make some compromises. If not, it's likely that the relationship will simply end in a friendship of the truest sort, leaving reproaches and conflicts behind.
Write your comment here ...