The union between the Libra woman and the Cancer man is quite positive on an astrological level, although there are some small disagreements that could make the relationship simply end in a beautiful friendship.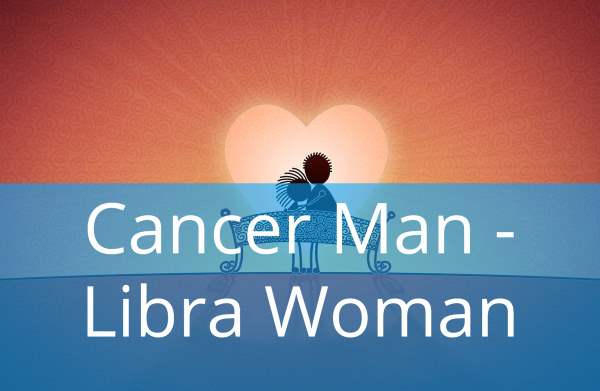 From the first exchanges of glances, Cancer is completely captivated by this subtle, refined woman. He falls madly in love with her. For him, she represents the ideal woman: she is sympathetic, graceful, elegant, and tender. He dreams of a great love story by her side, a far cry from one-night stands or overly passionate, destructive relationships. With her, he senses that things may be different from his previous relationships. He sees in her the harmony and balance that is necessary for this relationship to provide him with the stability he needs to thrive in other aspects of life.
But he could be wrong, and Libra tends to be a little volatile and a little emotionally unstable. Sometimes she finds it hard to make decisions, to commit. The opposite of her partner.
From the beginning, without even realizing what is happening, the Libra woman is seduced by this charming, attentive, sensual man. She is delighted by his adolescent side and soon realizes that he needs a woman to coddle him, to protect him. But she doesn't want to play protective mother all the time either. These differences will give rise to some tensions in the early stages of the relationship.
Restless and anxious by nature, Cancer will also find it difficult to feel secure in this relationship. Libra will have to prove to him that she is there, by his side and that she will not abandon him, no matter what.
There is also a difference between them that can seriously affect the relationship, which is that the Libra woman is more sociable than her partner, who tries to escape from all social activity, always preferring the comfort and safety of home. If, out of love, Libra adopts the same lifestyle as Cancer, there may come a day when she feels lonely. It's up to the Cancer man to know how to balance things and give her the freedom she needs to keep forging ahead and to feel alive.
As a couple, both of them generally assume their responsibilities and respect their commitments. If they decide to form a family, both will do everything they can for the good of their children, even renouncing their own ambitions.
The trust they have in each other and their great connection will be enough to solve most problems and difficulties that arise in the relationship.
Despite the small differences described, if they both put in a little effort, they have everything in their hands for the relationship to last over time. If either of them decides they are not willing to yield, things will end in a beautiful friendship full of good memories.
Write your comment here ...