Step by step: this is the union between these two signs. The Libra woman and the Aquarius man have great opportunity to create a relationship abounding with tranquility and positive energy.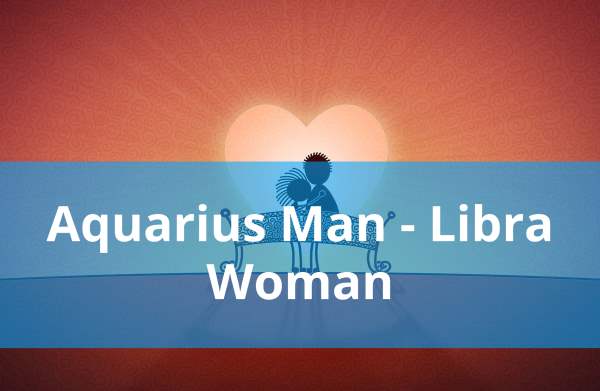 These two signs have a lot in common, which will facilitate their coming close together from the beginning. The Libra woman looks with tender eyes at the Aquarius man. A very subtle seductress, she knows how to let herself be wooed by this man who stands out among the crowd. Unlike the others (not only in appearance), Aquarius seduces her with his creativity. His poetic side excites the romantic spirit of Libra. When she's in his arms, she is happy, dreaming of having a beautiful love story with this amazing man.
Together, they will experience moments of special connection. Their intimate life will not take a backseat, because they will develop a relationship based on trust and respect. Both claiming a certain independence, they will manage to grant each other the freedom they value, both individually and in their relationship.
The libido of the Libra woman combined with the innate nonconformity of the Aquarius man will create an exciting, never routine sex life. This element will be an important resource for their relationship, enabling them to encounter each other. Sometimes this will even be the foothold for resolving small conflicts that arise in all relationships.
Together, they will experience great things, even causing envy in those around them. Their connection and freedom are enviable. Not all couples can reach this point, and that's why other couples with other signs envy them.
Despite all of these positive things, there will inevitably be some tension in the relationship. Aquarius sometimes tends to get carried away by events, and the Libra woman has great difficulty making decisions. So, when it comes to making decisions, problems arise. It will often be Libra who has to take on the responsibilities inherent in daily life, and the Aquarius man will be happy to be free of that burden. In the long term, this will certainly weigh on Libra, who is also not particularly focused on the material aspect of things and would also like to be free of all that.
However, despite these small conflicts that may arise in relation to decision-making, their married life will be very happy. The Aquarius man will learn a bit of the diplomacy from Libra, and he will provide her with the touch of madness that he sometimes finds lacking in her.
Write your comment here ...