Aquarius Man and Sagittarius Woman: Love Compatibility
Manuel G | September 16 2020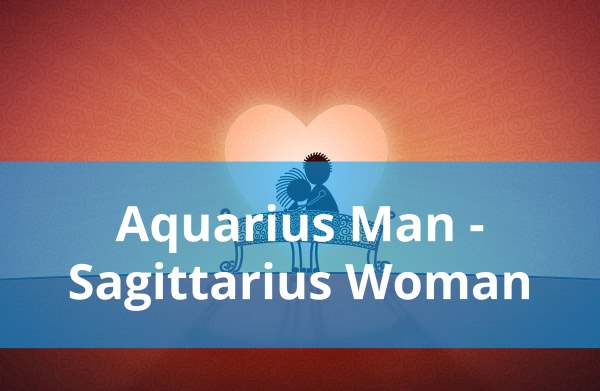 The Sagittarius woman and the Aquarius man have a lot in common, which can help them develop a loving, healthy relationship. Deeply attached to their freedom, they will be able to understand and support one another, and they'll have a lot of fun together.
Love emerges at first sight. They like each other. Aquarius is attracted to this cheerful woman, always ready for new adventures, so open and positive. He loves her ability to get excited about his ideas, to be surprised by everything, to be touched by the little surprises he gives her. Aquarius is a great idealist, and the Sagittarius woman loves that. She likes his creative side. She loves his lack of concern, his freedom. She likes to follow him in his projects and ideas, to support him in what his heart tells him.
Together, they will live powerful and beautiful moments full of connection. The Sagittarius woman is passionate about great conversations and exchanging ideas with her partner. Their connection is also based on spiritual and intellectual compatibility. This greatly enriches their relationship, even in the most intimate moments.
Their union is based on love, mutual respect, and trust. Aquarius and Sagittarius are beings who are deeply attached to their independence. They will be able to understand this need that they both have, and they can even allow the other person to experience beautiful things outside of the relationship, such as great friendships. They can even rejoice and feel good when they see happiness in each other. There is no envy when the other person in the couple has fun outside the relationship. The Sagittarius woman and the Aquarius man are neither jealous nor possessive. For them, the word love goes hand in hand with freedom. This way, success is guaranteed.
However, things will get a little complicated when they decide to start a family. The Sagittarius woman will find it hard to accept that she will have to sacrifice her independence for the benefit of her spouse and children. Aquarius will have to understand that, despite her desire to be a good mother and wife, she is still a woman. At some point in the relationship she may get tired of having to assume certain responsibilities and have her main occupation be managing material obligations. In fact, her partner doesn't worry much about the material, because for him it's a thing of little importance. Therefore, she is usually forced to take on a role that only half-satisfies her.
As we have seen, the Sagittarius woman and the Aquarius man have everything necessary to be able to create a good relationship and a family if they so desire. Open and overflowing with confidence in life, they will form a partnership envied by all.