Cancer Man and Sagittarius Woman: Love Compatibility
Manuel G | October 25 2020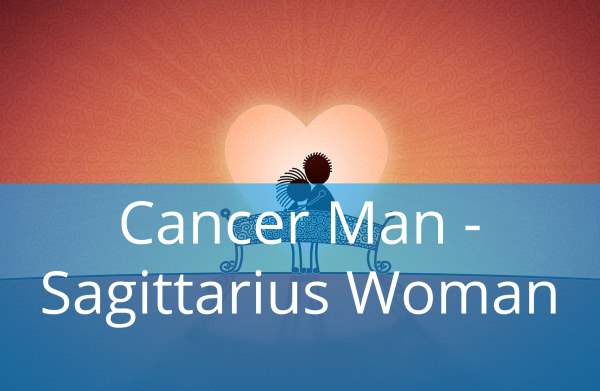 An encounter where there is no doubt that a lasting relationship can emerge, although for this to happen, both will have to make compromises and improve their communication. Only if these conditions are met will they be able to live together in harmony.
From the first glance, the Cancer man is captivated by this beautiful, refined woman, who exudes subtlety in every movement. He falls madly in love with her. As for Sagittarius, she admires Cancer's capacity for enthusiasm and his way of seeing life. But most of all, she treasures the love he radiates in everything he does. She loves his taste for adventure, although at the same time it scares her a little.
The Cancer man is someone who is very attached to his habits. He gets a little anxious when changes come into his life and when things vary from the everyday patterns.
As for the Sagittarius woman, she is soon fascinated with this man who has so much charm and tenderness. She sees in him a man full of sweetness and sensuality. A man with whom to enjoy a thrilling sex life, unforgettable sex. The Sagittarius woman's overflowing energy and her desire to experience new fantasies, combined with the sensitivity and sensuality of the Cancer man, will make their sex life a strong point in the relationship. On many occasions, the small conflicts between them will be settled in bed.
The Sagittarius woman, the great adventurer of the zodiac, needs some freedom and independence for the relationship to work. The Cancer man knows so, and if he doesn't, he'll realize with time.
The Sagittarius woman will quickly understand that the Cancer man seeks security in his partner above all else. This is why Sagittarius will try to provide him with the stability and security he needs, but without leaving her own projects unattended. She must learn to reconcile the two so as not to lose him, as there's the risk that he may think she puts work before the relationship.
As for the Cancer man, he will have to learn to enjoy certain times of the day when his partner is not available to him. He has to learn to have fun with friends or alone or look for some hobby or entertainment beyond the time he enjoys with his partner. But be careful, because if he starts enjoying his moments of solitude or with friends more than with his partner, this could come to bother the Sagittarius woman, who, out of love, has been able to give up many of these moments for him. It's up to them to find a balance in order to continue enjoying this magnificent relationship and the joyful moments they experience together.
Write your comment here ...