An encounter with many possibilities of becoming a lasting relationship, where both individuals can enjoy life and grow together.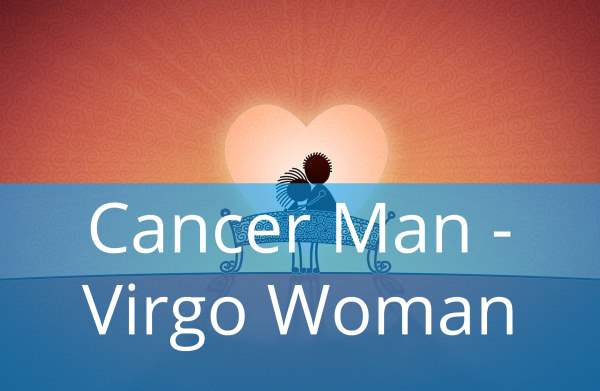 There is a lot of chemistry between these two zodiac signs from their very first encounters. The Cancer man immediately surrenders to this woman of such simple, refined charm. He loves everything about her: her sweetness, her calm, her naturalness, and above all, her reserved and mysterious side. With her, he dreams again of a great love story, one of those passionate ones where only positive things emerge. The Cancer man, romantic and tenderhearted, feels that he has found in her the woman with whom he can make progress in life, and why not start a family.
It's quite possible that things will move quickly between them because neither of them is afraid to start a new relationship. Both seek to achieve a certain security in their lives, a stability in love. One-night stands don't interest them, or only in a very occasional way (more to Cancer than to the cautious Virgo).
On a sexual level, their connection is 100%. Cancer's irresistible charm and sexual experience will be enough for the Virgo woman to overcome some mental blocks or mistrust that she experiences from time to time. Locked in rather rigid thought patterns, she will free herself when she's with this man. He will help her explore places unknown to her, reaching unprecedented levels of pleasure. This relationship will be very transformative for the Virgo woman. There will be a before and an after for her. She won't be the same person again. She'll discover a new way of approaching life.
On an intellectual level, there is a great connection between the two. They really like to talk, to exchange ideas, and that brings them closer, especially at times when there is a certain tension between the two.
On the social level, their relationship is also quite positive. Both are friendly and are always willing to meet new people, which makes the relationship even richer.
As a couple, the Cancer man's attachment to reality and pragmatism will be a support for the Virgo woman. He has his feet on the ground, and this allows her, a great dreamer, to get out of sticky situations and not have to experience all the limitations that exist in everyday life. In return, Cancer will benefit from the kindness, wisdom, and consistency of the beautiful Virgo. In addition, her nonconformist side will push them to abandon together some of their more rigid principles.
Thanks to him, she will gradually abandon her fears, dare to do more things, and there will even come a day when she enjoys expressing her feelings, something very complicated for the Virgo woman, the most reserved sign of the zodiac. But it's also possible she may notice that the Cancer man has complete control over her, and this is something she would not stand for. It's then up to her to learn to control herself and not to seek conflict with her partner, but rather to deal with the issue sensibly and calmly.
In short, this is a relationship with many possibilities to prosper, where both individuals can benefit a lot. By simply making some compromises, they can find the happiness as a couple that they both yearn for.
Write your comment here ...