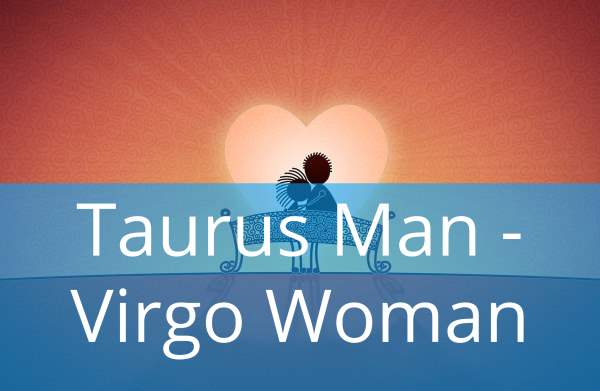 A union that promises many happy moments right from the very beginning of the relationship.
The Taurus man literally melts before this woman who is so intelligent and reserved. He is immediately attracted to her authenticity, and above all, her sharp-mindedness. The inexhaustible sensuality of the Virgo woman, together with her shyness, excite him to the max. She has all the devices to make him fall at her feet.
The Virgo woman tends to want to have everything under control at all times, and this is pretty positive for the relationship to work.
From the first glance, the Virgo woman also falls in surrender before this sensual man who always has the right words to reassure her in her anxieties. When they're together, they have a great time. The Taurus man knows very well how to enjoy life and its pleasures, and he's able to drag his partners along to enjoy things with him.
The Virgo woman also greatly appreciates the way Taurus understands life in a relationship. She is reassured to know that this solid, sensitive man dreams of creating a home. He needs, above all, an organized and stable life, where he can also grow professionally. He doesn't want to live a life full of stories or adventures that distract him from what is important.
They will soon begin joint projects and plan their future together. They need this to live in total harmony.
As a couple, they will live a serene love, far from the devouring passions that destroy so many couples today. Both appreciate the comfort of life with a certain routineness, of a life for two, protected from an excessively intense social life that often only brings problems.
However, they have to avoid isolating themselves too much from society because this could create some problems. The relationship could suffer in the long term. Not only the two of them, but also their family. They should look for other couples and friendships so that they still feel like they are part of society and don't develop antisocial behavior.
The Virgo woman will feel fulfilled with this man who gives her the security she longs for, as long as she is willing to belong to him in body and soul, without reservations. The Taurus man is a little possessive and jealous. It would be very difficult for him to accept that his partner could experience sensual or even purely intellectual emotions outside of their relationship.
But there's another problem that often arises in this relationship. The Virgo woman is a great dreamer. This could come to annoy the Taurus man, who always has his feet on the ground, and in the long run, might tire of such little maturity. He doesn't understand how someone can have so little attachment to reality. It's up to her to be a little more flexible, and it's up to him to know how to bring her back down to earth, always making sure she doesn't feel stupid for continuing to have dreams, even if they are sometimes impossible to fulfill.
If they manage to resolve these small differences, they will live the life they want, a life full of stability, with their focus on the important things in life.