This is a relationship with good chances of thriving. The Virgo man and woman are very similar, and this is their best asset to make their life together long-lasting and happy.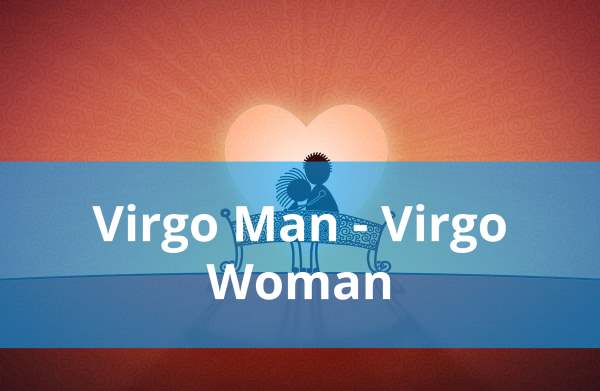 They both fall under each other's spell from their very first encounters. Discreet and sensitive, always very attentive to his partner, the Virgo man knows very well how to win the heart of the Virgo woman. Although with other signs he tends to be reserved, in this case, he'll dare to make the first move to seduce this woman who is overflowing with elegance, a little shy but very sweet.
As for the Virgo woman, she really values her suitor's seriousness, his consideration with her, his way of showing her love. In his arms, she feels completely confident in herself, and this makes her put herself body and soul into everything she does. Their intimate and sexual life is not the most intense, but over time it will improve, little by little, thanks to the great bond that exists between them.
Since they both have the same idea of how to coexist well, they will make compromises in order to live in harmony. Commitment will not be a problem for them, as they have the desire to live a great love story that will lead them to a home life full of beautiful moments.
As a couple, they will get along very well. This will be enough to ease many of the tensions that often lead to difficult-to-resolve conflicts. They know how to listen to each other, and this is a great advantage.
However, their union may not be 100% successful. By nature, Virgos don't tend to look outside themselves much. In the long run, this could cause them pain from a certain degree of isolation in their relationship. Virgo is generally quite critical of the relationships of his partner, which dissuades her from developing relationships beyond close work and family relationships, which in many cases is very detrimental to a relationship.
Everything or almost everything between these two Virgos is predictable. At many stages of life, they may come to feel that they have a lack of novelty and surprises. The Virgo man and woman like to anticipate and monitor everything in their daily life, which is very positive when it comes to planning an important project such as the decision to have children or buy a home, but it is not so good when this caution applies to love. This can affect their intimate life. Imagine that they even try to plan their sex life. That would be a mistake.
The lack of newness and the routine may get the better of them at any time. If they both manage to prevent this and open up to the outside world, their life as a couple will improve tremendously. Then they would only have to learn to express their feelings more clearly, to dare to show themselves as they really are, imperfect and human, to make this relationship eternal.
Write your comment here ...