Everything is possible between the Leo man and the Capricorn woman, but nothing must be taken for granted. It will all be a matter of moderation and balance.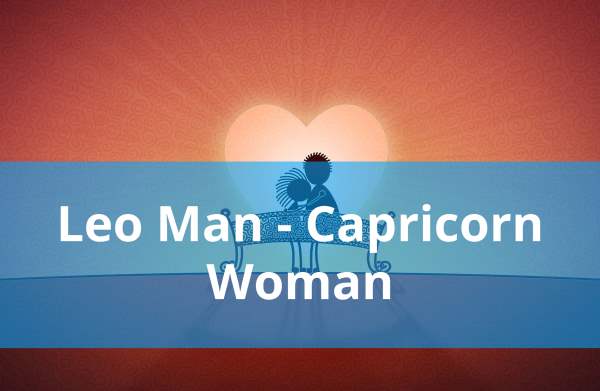 From their first dates, the Leo man is attracted by how reserved the Capricorn woman is. What is this woman hiding behind her cold appearance? This intrigues and excites him.
Leo doesn't like easy stories; there must be obstacles, and things shouldn't work at first. An easy woman will only interest him for short relationships. He likes the game of seduction. He loves to overcome obstacles and difficulties, and the Capricorn woman gives him infinite difficulties. She knows how to stand up to him, how to reject him, give him one thing and then the opposite.
She's not too attracted to him at first. She like more serious men, less controlling than Leo. However, she feels wonderful with the small courtesies he shows her and is seduced by his generosity, strength, energy, and vitality. By the strength of perseverance, the Leo man will finally make her succumb, although for this to happen and for her to eventually open herself to him completely, more time will have to pass. It's a step-by-step process.
As a couple, they may encounter some difficulties because they are very different. But, since they are both intelligent, they will eventually learn that their differences in temperament can even be positive for their union.
They may have communication problems. Leo and Capricorn are authoritarian signs. They strongly defend their ideas, and they both like to have power and exert some influence over the other. This will often lead Leo to try to have the last word, and he locks horns with the resistance and doggedness of his partner. Even the calm that the Capricorn woman maintains in such situations will destabilize him, as he's used to winning many battles. Therefore, he might not bear this lack of dominance.
Capricorn doesn't like her partner to mold and change her. She is very independent and determined. She isn't willing to make him believe that he has the power in the relationship in order to avoid conflict, unlike other women with other zodiac signs.
In some cases, this could be a reason that the Capricorn woman may end the relationship. Although this man gives her the protection and affection she needs, she cannot deal with her partner's oversized ego for long. He dreams of standing out in society, and she is much more stay-at-home and solitary. For her, the important thing is family; no power struggles or any of this nonsense.
However, if their union works and they manage to overcome these small problems, they can enjoy a beautiful partnership and achieve wonderful things together. Capricorn brings seriousness and realism; Leo strength, energy and openness to the outside world.
Write your comment here ...