A very tender union. The Leo man and the Scorpio woman are immediately attracted to each other.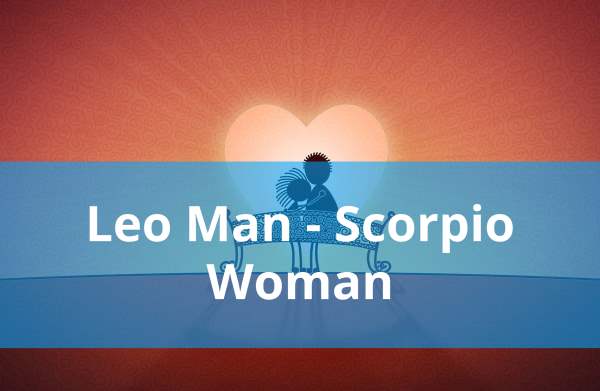 The charm of the Scorpio woman wreaks havoc, even in the Leo man, who is not accustomed to succumbing right away. But in this case, he will do anything to seduce her. He won't hesitate to use his best weapons to make her fall into his arms, and it is likely to work, since this man full of passion, ardor and charisma is an excellent seducer. Unless it's her, the skilled predator, who gets him caught in her nets first.
The game of seduction will be the most exciting between these two love enthusiasts. They both like to dominate, manipulate, play with desire and pleasure.
Together, they will experience fantastic moments of infinite, limitless passion. Their union will never be platonic, but it will always be surprising and extraordinary. Leo doesn't like to do things halfway, and Scorpio really likes to make love. This is certainly a couple that stands out in society for their characteristics and charisma. They don't go unnoticed.
As a couple, the Leo man and the Scorpio woman have good potential, although this will not prevent some tensions related to a number of small differences between them.
Leo is demanding and authoritative by nature. In general, he needs to impose his point of view and his vision on his partner, which is not always a good idea. Scorpio usually does not let herself be dominated. In fact, despite her intense need for security and her small existential anxieties, she loves her independence and generally has a bad experience in situations where she doesn't have the final say. Her refusal sometimes to comply with the established rules is likely to be a source of tension in the relationship. Therefore, it's up to her to know how to circumvent her partner's authoritarian tendencies, making him believe he's the one who runs the relationship, but without this actually happening. If she meets this condition, she will be able to live a wonderful story with a man who can offer her everything she dreams of.
She should also avoid being too aggressive in her comments, as she is not one to bite her tongue, and Leo is a spiteful man, which can lead to future resentment. He finds it hard to accept his self-esteem being wounded, and this could make his anger with her last for a long time if she ever passes this man's limits.
In addition, Leo, who is very ambitious professionally, is very focused on his persona and on achieving his own success. Sometimes he has difficulty putting himself in his partner's shoes and understanding her, which makes communication between the two quite difficult.
However, the great connection between the two, Leo's generosity, and Scorpio's willpower will be enough to overcome any obstacles they may encounter in the relationship.
Write your comment here ...